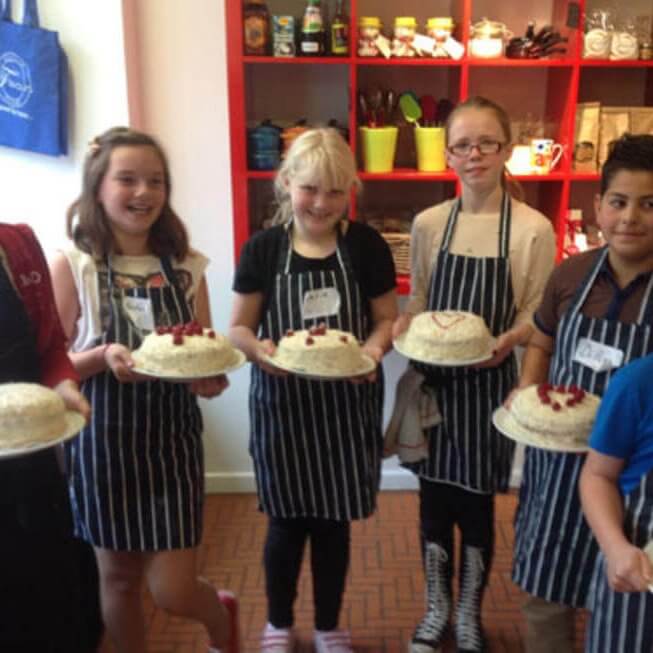 Little Chefs Saturday Club!
Booking is required. Ages 8 - 11. Classes follow a 6 week programme.
For prices and availability click the button below. 
This popular Saturday morning cookery class allows our young students to gain practical experience and skills whilst exercising their creativity! This fun-packed class focuses on three main goals:
Teaching valuable life skills and learn to cook great dishes
Experimenting with new ingredients, techniques, and different cuisines
Learning about healthy eating and food safety
Practicing hands-on skills in a safe environment, such as knife skills
Having fun whilst doing all of the above!
This class has been running for over six years and has covered many areas of kids practical cookery including:
Cold preparation of simple dishes
Creation of soups and sauces
More complex recipes such as paella and fruit mousse
Everything that the young students will need is provided by Flavours - aprons, ingredients, equipment, light refreshments, recipe sheets and takeaway boxes. All creations can of course be taken home for all the family to sample!
Spaces are limited for this great kids club, so call today to find out about availability!
Example six-week course (please note the menu changes regularly):
    Hazelnut tart with Orange Mascarpone & Fresh Strawberry
    Pork Goulash with Steamed Rice
    Apple & Rhubarb Crumble Tart with Custard
    Fresh Tagliatelle Pasta with an Italian Tomato sauce & Filled Raviolis
    Chocolate Marble Cake and Chocolate Brownie
    Chicken & Vegetable Pie with Homemade Short crust Pastry
Please note: if the young person taking part in this course has any allergies or special dietary needs, this must be declared at the point of booking. If they have sensory processing needs please send us an email to discuss this further. Parents and carers must be aware that the kitchen is often a loud environment. 
My daughter had a great day with you. We were so impressed with what she brought home - such amazing food. Thank you!
~ Adrianna Lattimer, April 2018
OMG my kids loved it - Des is fantastic and kept my two entertained the whole day. The bonus was the food actually tasted amazing as I was expecting the worst! Thank you to Des and team, they loved it.
~ Nick Macey
What did we do before Flavours?! My 10 year old absolutely loves it. Thanks Amy, Des and team.
~ Zoe Westwood