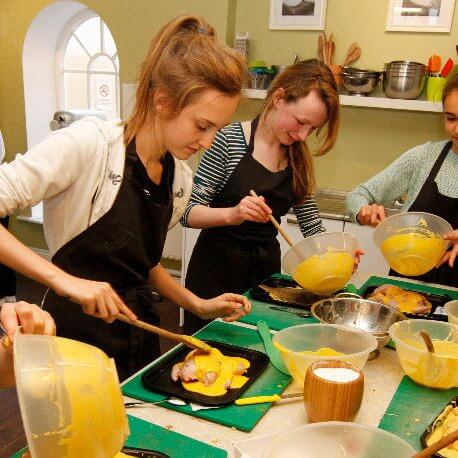 Booking is required. Ages 12-16. Classes follow a 6 week programme. For prices and availability click the button below.
Our Teen Taste Cookery Club offers teens a great way for them to unwind, have some fun, catch up with other students and get creative!
Every week we take on a different skill or cooking method. In order to reach their full potential, we believe it's important that our students learn the fundamentals of practical cookery, understanding food groups and gaining ingredient knowledge. In each class we focus on different skills or cooking methods, allowing the young cooks to experience a wide range of dishes and world cuisines. We always make sure our programme covers both sweet and savoury dishes.
This class is aimed at 12-16 year olds as we cover knife handling, stove top cooking and oven work - valuable life skills.
Everything that the young students will need is provided by Flavours: aprons, ingredients, equipment, light refreshments, take-away containers and recipe sheets. On top of all this, the young people get to take home the food they've created so that your whole family can sample.
Is your child completing the Duke of Edinburgh Award? This course is great for the skills section of the programme!
Please note: if the teenager taking part in this course has any allergies or special dietary needs, this must be declared at the point of booking. If they have sensory processing needs please send us an email to discuss this further. Parents and carers must be aware that the kitchen is often a loud environment. 
SAMPLE CLASS
Fresh Linguini Pasta with Marinara Sauce, Fresh Basil and Buffalo Mozzarella
Hot Chocolate Fondant with Pistachio Biscuit & Vanilla Custard
Pan fried Sea Bream with a Spiced Vegetable Couscous and a Garlic Sauce
Cherry & Sultana Scones, & Profiteroles
Chorizo and Chicken Risotto & Cream of Chicken Soup with Ham and Cheese Toastie
Warm Blueberry Whoopies & Sacher Torte